Author: Amy Plum
Series: After the End
Genre: YA, Fantasy, Sci-Fi/Dystopian
Release Date: May 6, 2014
Format: ARC
My Rating: 3.5 Stars
World War III has left the world ravaged by nuclear radiation. A lucky few escaped to the Alaskan wilderness. They've survived for the last thirty years by living off the land, being one with nature, and hiding from whoever else might still be out there. At least, this is what Juneau has been told her entire life. When Juneau returns from a hunting trip to discover that everyone in her clan has vanished, she sets off to find them. Leaving the boundaries of their land for the very first time, she learns something horrifying: There never was a war. Cities were never destroyed. The world is intact. Everything was a lie. Now Juneau is adrift in a modern-day world she never knew existed. But while she's trying to find a way to rescue her friends and family, someone else is looking for her. Someone who knows the extraordinary truth about the secrets of her past.
My Thoughts
When I heard that Amy Plum had a new fantasy/sci-fi novel coming out this year, I was extremely excited. I absolutely adored her Revenants series so when I got After the End, I couldn't wait to delve into it. However, After the End was not what I was expecting at all, and I admit that I'm slightly disappointed by it.
The Plot: The main character, Juneau, has been lied to her whole life. She was told that a World War III destroyed every thing, and her clan in Alaska is one of the few remaining people. This all changes when her clan leader is kidnap and everyone else disappears. Juneau journeys off on a rescue mission when she realizes that the world is still intact and there was no war in the first place (something the readers already know before-hand). The premise of this story was really unique and contained tons of potential, but it lacked something that just didn't make me love it. I really enjoy Amy Plum's writing style and while I read it in one sitting, it never completely hooked me. Two things I really liked though were the fantasy aspects featuring the Yara and the dual POV's.
The Characters: I'm still not very sure how I feel about Juneau. In all honesty I'm kind of "meh" about not just Juneau, but all of the characters. Well, I definitely liked Miles more, but I never connected to them at all. They seemed kind of bland to me, besides Juneau having a link with the Yara. The romance between the two was also conflicting for me. While I love romance in my novels, I didn't feel the chemistry between them. It all seemed kind of rushed but I still appreciated it being there, if that makes any sense.
Overall, After the End was a "meh" novel for me. But I would still recommend it to fans of Amy Plum in hopes of them liking it more than I did. It might not have been my cup of tea, but I can definitely see other people enjoying this novel.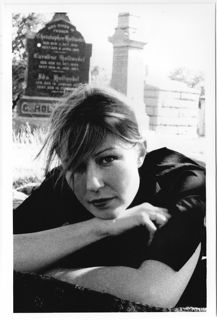 About Amy Plum
Amy Plum is the author of DIE FOR ME, a YA series set in Paris. The first three books—DIE FOR ME, UNTIL I DIE, and IF I SHOULD DIE—are international bestsellers, and have been translated into eleven different languages. The fourth book is an eNovella, entitled DIE FOR HER. The first book of Amy's new series, AFTER THE END, releases in May 2014.
Amy grew up in Birmingham, Alabama before venturing further afield to Chicago, Paris, London and New York. An art historian by training, she can be found on most days either daydreaming or writing (or both) in a Parisian café.