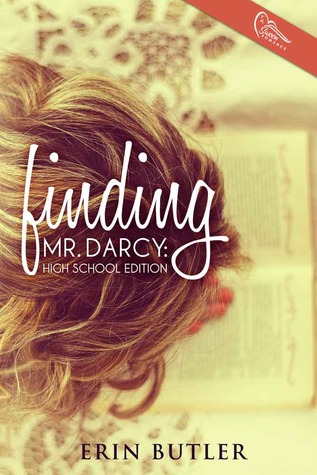 Author:
Erin Butler
Title:
Finding Mr. Darcy: High School Edition
Release Date: September 16, 2014
Publisher: Swoon Romance
Buy Links:
Amazon
Sixteen-year-old Liza Johnson takes fangirl to a whole new level of crazy when she decides to take dating advice from her literary hero: Jane Austen. With the help of her best friends, Liza sheds her ancient-speak and complete Austen wardrobe for something a bit more modern in an attempt at finding her very own Mr. Darcy. Enter Will, the new kid and Liza's Darcy incarnate. Add her BFF's ex to mix and the sexy Brit who kisses with an accent, and Liza is in trouble. So, what's a girl to do? Without her mom to go to relationship advice, Liza turns to the only person she can truly trust with matters of the heart via her mother's copy of COMPLETED WORKS OF JANE AUSTEN. It's too bad Austen's heroines have never played Spin the Bottle or Seven Minutes in Heaven. Liza's determined to find her true Austen-esque happy ending, but if she can't trust herself instead of books, she just might end up in her own tragic love story.
My Thoughts
I'll be honest here and say that I've never read any of Jane Austen's books or seen the movies. Admittedly, I'm not a huge fan of classics at all. *hides from all the Jane Austen/classics fans* Anyway, even though I only know the main details of Pride and Prejudice I really enjoyed Finding Mr. Darcy.
The Plot: Who needs boys when fictional characters like Mr. Darcy exist? Certainly not Liza Johnson. Liza's role model is Jane Austen, and she's pretty much obsessed with her. Her real life best friend, Janie, doesn't understand her love for this century old author but tolerates it anyway...sort of. Now enter Will. He's the new student, the talk of the school, and just maybe, the perfect Mr. Darcy. However, her budding relationship with Will gets muddled after the addition of Janie's ex-boyfriend and a fling during her trip to England suddenly, Liza is
uncertain if "Mr. Darcy" is truly for her.
One of my favorite parts of this book were the connections between Jane Austen's works and Liza's love for them. She's the definition of a true fangirl. She's read Pride and Prejudice so many times that she can directly quote it, and she sports Jane Austen shirts on a daily biases. I honestly didn't like any of the characters very much but I really enjoyed the plot and its rendition of the original novel.
The Characters: Liza. I fairly liked Liza's character...most of the time. Sometimes she made decisions that really frustrated me. Including the fact that she couldn't choose between three different guys. Don't worry, I'll get into this more later. Overall I felt like she was somewhat of a bland character but I definitely liked her more than Janie. Janie is Liza's best friend and for the most part, she was a pretty good friend. The thing that bothered me though was her lack of common sense! Janie
is going through a tough time due to some family matters, and she meets a guy online who provides her an outlet to rant about everything. Now keep in mind that this is a stranger whom Janie has never met, seen, or talked to before. This is the number one rule of safety internet! You do not talk to strangers, and you certainly don't offer to meet them! This is the reason for my dislike of Janie. I understand that her best friend was off having fun in England while she was suffering at home but seriously, the guy could have killed her! *sighs in frustration* Anyhow, moving on to Will and Ryan aka the love interests. Yes, there is a slight love triangle (square?) in this book. But more on that later. I actually liked Will. He was really nice and understanding of everything ,and I rooted for him and Liza. Then there's Ryan. I didn't like Ryan very much in the beginning. I had a theory about what was going to happen between him, Will, and Liz, and I was right on some accounts but mostly wrong. Ryan and Liza have undeniable chemistry together, even though he's her best friend's ex-boyfriend. And after all, Will is her perfect Mr. Darcy or is he? This brings me to the romance in the novel.
The Romance: It's finally time to get into the romance! So from the blurb above there's a hint of a love triangle and there kind of is. It doesn't completely drive plot, but the romance is a main factor. I mentioned a maybe love square earlier in my review, because when Liza goes to England she meets Ben, who seems to be interested in her (
keep in mind he's also a cute British guy). The reason Liza went to England in the first place was because her school selected her and Will as the winners of a writing contest, and the prize was a trip to England that also included a visit Jane Austen's house. Her fling with Ben didn't bother me as much because it was just that, a fling. But while she and Will were kind of a "thing", she would always revert back to thinking about Ryan. At this point I really just wanted to yell at her to pick a guy! Her revelation of which guy she truly liked happened pretty suddenly and kind of out of nowhere, but I liked who she ended up with.
In the end, the characters and romance of Finding Mr. Darcy weren't outstanding, but I still fairly enjoyed it. The plot was more unique and the main reason why I enjoyed this book so much. Finding Mr. Darcy is a cute, fun rendition of Jane Austen's novel, perfect for lovers of contemporary romance.
Giveaway
About Erin Butler
Erin Butler is lucky enough to have two jobs she truly loves. As a librarian, she gets to work with books all day long, and as an author, Erin uses her active imagination to write the kinds of books she enjoys reading. Young Adult and New Adult books are her favorites, but she especially loves the ones with kissing scenes.
Erin lives in Central New York with her very understanding husband, a stepson, and doggie BFF, Maxie. She prefers to spend her time indoors reading and writing, but will venture out for chocolate and sunshine. She is the author of BLOOD HEX, a YA paranormal, HOW WE LIVED, a contemporary New Adult novel, and FINDING MR. DARCY: HIGH SCHOOL EDITION, a contemporary YA.
Blog Tour Organized by:
YA Bound Book Tours