Waiting on Wednesday is a weekly event hosted by Breaking The Spine, that highlights upcoming releases we're anticipating.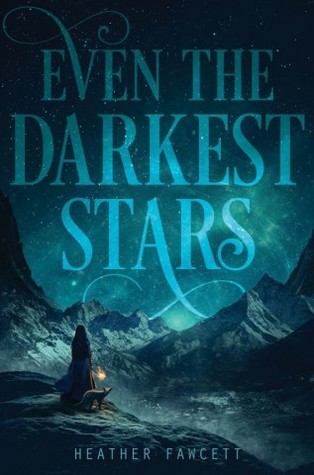 Author:
Heather Fawcett
Title: Even the Darkest Stars
Genre: YA, Fantasy
Release Date: September 5, 2017
Summary From Goodreads:
K
amzin has always dreamed of becoming one of the Emperor's royal explorers, the elite climbers tasked with mapping the wintry, mountainous Empire and spying on its enemies. She knows she could be the best in the world, if only someone would give her a chance.
But everything changes when the mysterious and eccentric River Shara, the greatest explorer ever known, arrives in her village and demands to hire Kamzin—not her older sister Lusha, as everyone had expected—for his next expedition. This is Kamzin's chance to prove herself—even though River's mission to retrieve a rare talisman for the emperor means climbing Raksha, the tallest and deadliest mountain in the Aryas. Then Lusha sets off on her own mission to Raksha with a rival explorer who is determined to best River, and Kamzin must decide what's most important to her: protecting her sister from the countless perils of the climb or beating her to the summit.
The challenges of climbing Raksha are unlike anything Kamzin expected—or prepared for—with avalanches, ice chasms, ghosts, and even worse at every turn. And as dark secrets are revealed, Kamzin must unravel the truth of their mission and of her companions—while surviving the deadliest climb she has ever faced.
I was definitely drawn into this one by the cover at first (it's so pretty), but the description sounds interesting too! I'm kind of wary though, since it seems like a majority of the plot will cover their climb through the mountains, but hopefully it won't drag!
What are you waiting for this week? Tell me in the comments below!