Waiting on Wednesday is a weekly event hosted by Breaking The Spine, that highlights upcoming releases we're anticipating.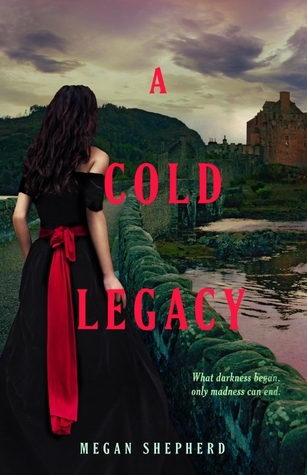 Author: Megan Shepherd
Series: The Madman's Daughter
Genre: YA, Fantasy, Romance, Horror, Retelling, Historical
Release Date: January 27, 2015
After killing the men who tried to steal her father's research, Juliet—along with Montgomery, Lucy, Balthazar, and a deathly ill Edward—has escaped to a remote estate on the Scottish moors. Owned by the enigmatic Elizabeth von Stein, the mansion is full of mysteries and unexplained oddities: dead bodies in the basement, secret passages, and fortune-tellers who seem to know Juliet's secrets. Though it appears to be a safe haven, Juliet fears new dangers may be present within the manor's own walls.
Then Juliet uncovers the truth about the manor's long history of scientific experimentation—and her own intended role in it—forcing her to determine where the line falls between right and wrong, life and death, magic and science, and promises and secrets. And she must decide if she'll follow her father's dark footsteps or her mother's tragic ones, or whether she'll make her own.
With inspiration from Mary Shelley's Frankenstein, this breathless conclusion to the Madman's Daughter trilogy is about the things we'll sacrifice to save those we love—even our own humanity.
A Cold Legacy is the third (and last!) book to the Mad Man's Daughter trilogy, and I can't wait to read it! First, it's a Frankenstein retelling. How cool is that?! If you didn't already know, each book is a different retelling! Also, I love the cover.
What are you waiting to read? Tell me in the comments!
About Megan Shepherd
Megan Shepherd was "born" into the book world, growing up in her parents' independent bookstore in Western North Carolina. She is the author of THE MADMAN'S DAUGHTER trilogy (Balzer+Bray/2013), and THE CAGE trilogy (Balzer+Bray/2015). When Megan is not writing, she can usually be found horseback riding, day dreaming at coffee shops, or hiking in the beautiful Blue Ridge mountains. She is represented by Josh Adams at Adams Literary.