Author: Liz Czukas
Series: None
Genre: YA, Contemporary Romance/Realistic Fiction
Release Date: March 11, 2014
Format: Ebook
Despite what her name might suggest, Heart has zero interest in complicated romance. So when her brilliant plan to go to prom with a group of friends is disrupted by two surprise invites, Heart knows there's only one drama-free solution: flip a coin.
Heads: The jock. He might spend all night staring at his ex or throw up in the limo, but how bad can her brother's best friend really be?
Tails: The theater geek...with a secret. What could be better than a guy who shares all Heart's interests--even if he wants to share all his feelings?
Heart's simple coin flip has somehow given her the chance to live out both dates. But where her prom night ends up might be the most surprising thing of all...
My Thoughts
Ask Again Later reminded me a lot of Pivot Point by Kasie West with the alternate realities, but a lot fluffier and less mystery filled.
The Plot: Heart is faced with two choices- to go to Prom with her brother's best friend as a pity date or with a guy in her theatre group, who is hiding a secret. Ask Again Later is told in two different scenarios, one from Heart's decision to go with Troy and the other from her date with Ryan. Heart's date with Troy goes horribly wrong. Someone in their group ends up spilling water on her dress, then her dress splits, her phone is broken, Troy kisses her when he's drunk, and her brother, Phil, is being a complete jerk. On the other hand, Heart has a surprisingly fun time with Ryan during Prom. Heart ends up with her friends anyway after Ryan's car breaks down on the way there. All of her friends welcome Ryan, except for Heart's friend who she nicknamed Schroeder. All of the events come together at the end, and Heart realizes that love might not be as bad as she thought.
The Characters: I loved the relationship between Heart and her friends in the No Prom-A Drama group. The group was funny and supportive and the characters just seemed real. Even though Phil was a total jerk to Heart at times, I could tell that they had a strong relationship. I loved Ryan and how much fun he and Heart had together. He obviously trusted Heart a lot when he told her his secret. I also totally shipped Schroeder and Heart the entire time. He's one of my favorite characters, and his nickname is awesome.
Ask Again Later was a really cute and fluffy novel with humorous moments and great characters. Although it was predictable at times, I still highly enjoyed it.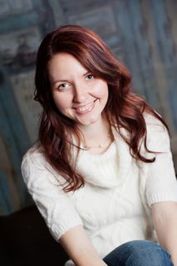 About Liz Czukas
Liz Czukas is the author of fun YA romances like ASK AGAIN LATER (HarperTeen '14) and TOP TEN CLUES YOU'RE CLUELESS (HarperTeen '14). She also writes fun New Adult romances like WHEN JOSS MET MATT under the name Ellie Cahill.