Waiting on Wednesday is a weekly event hosted by Breaking The Spine, that highlights upcoming releases we're anticipating.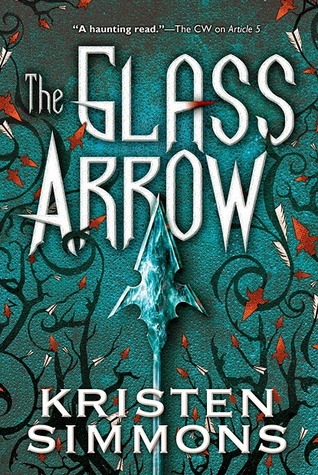 Author: Kristen Simmons
Series: None
Genre: YA, Sci-Fi/Fantasy, Dystopian, Romance
Release Date: February 10, 2015
T
he Handmaid's Tale meets Blood Red Road in Glass Arrow, the story of Aya, who lives with a small group of women on the run from the men who hunt them, men who want to auction off breeding rights to the highest bidder.
In a world where females are scarce and are hunted, then bought and sold at market for their breeding rights, 15-year old Aya has learned how to hide. With a ragtag bunch of other women and girls, she has successfully avoided capture and eked out a nomadic but free existence in the mountains. But when Aya's luck runs out and she's caught by a group of businessmen on a hunting expedition, fighting to survive takes on a whole new meaning.
I loved Article 5 (although I haven't read the rest of the series yet), so I'm definitely excited for Kristen's new book. Honestly, she had me at Blood Red Road but the rest of the synopsis sounds so good!
What are you waiting to read? Tell me in the comments!